CZECH OPEN SPRING RECREATIONAL CUP – PILSEN 2019
Wann:

13.04.2019 08:00:00 bis 14.04.2019 23:00:00

Wo:

Pilsen ice rink - Kooperativa Arena
Studentská 2143


32300 Plzeň 1

Kategorie:

Turniere in Europa

Schlagworte:

Teilnehmer:

Noch keine Teilnehmer.
Beschreibung der Veranstaltung:
CZECH OPEN SPRING RECREATIONAL CUP – PILSEN 2019 – VII. Edition

Location:  Pilsen – fourth biggest town in the Czech Republic offers a
lot of options how to spend your ice hockey time and your ice off one,
too

Date: 13. – 14.04. 2019 including your arrival day on Friday 12.04.
2019.

Participants: recreational teams from the european countries (Czech
Republic, Finland, Schweiz)

Modus of the tournament: two days tournament (Saturday, Sunday). Teams
will be divided into the two groups, each 4 teams. They will be play
the mutual games in the groups and according to the points will be
play the final one on Sunday  Playtime: 2 x 20 minutes of running
time. 4 - 5 games are guaranteed. No checking, slap shots allowed.

Ice hockey arena:  there is an arena with two rinks and with enough
spacious locker rooms

Accommodation:   in the *** town hotels in the double, triple and
four-bed rooms, which all are fitted up with showers and WC

Catering: full board – breakfast - hotel, lunch – ice hockey hall
restaurant  and dinner in the hotel restaurant

Registration:  till the end of January 2019

Contact: sportevents33@gmail.com , phone number (Mobile, Whatsup: +420
602 335 991)
Anzeigen: Sport Tours Agentur Prag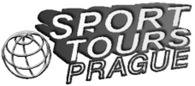 (noch keine Bewertungen)
Mitglied seit:

05.12.2018

letzte Aktivität:

02.03.2020
Möchtest du ein Turnier oder Trainingscamp anbieten?